5 WWE Superstars Who Competed In MMA
WWE is arguably the biggest brand in pro-wrestling, without a close competitor. The wrestling entertainment platform is home to some of the best professional wrestlers in the world, and the discipline of combat sports often gets compared to MMA, which is widely represented by the UFC.
Over the years, many WWE superstars have crossed over into the world of mixed martial arts, and while some have exceeded expectations, others have had to face nothing but embarrassment. Here are five pro-wrestlers who transitioned to MMA.
Brock Lesnar
You're most definitely lying if you say you don't know this one. Brock Lesnar is without a doubt the most notable professional wrestling name to fight in the UFC Octagon, and he did quite well, given the fact that he was fighting some of the best heavyweight fighters of his generation.
'The Beast' beat legend Randy Couture to win the UFC heavyweight belt in only his fourth MMA fight. He then went on to defend his title twice, against Frank Mir and Shane Carwin, before eventually losing it to Cain Velasquez.
#OnThisDay in UFC history – Brock Lesnar captures UFC gold in only his FOURTH professional fight at UFC 91! pic.twitter.com/qbHQcAeu5w

— UFC (@ufc) November 15, 2018
His last MMA fight was against Mark Hunt, which he won via unanimous decision, but the fight was ruled a no-contest after Lesnar failed a drug test.
Bobby Lashley
Bobby Lashley is one of the very few professional wrestlers to have an impressive MMA run. He is 15-2 in his professional MMA career, with his most notable wins coming during his time in Bellator. He has also won the heavyweight title in two different promotions during his career.
His last fight was back in 2016 but had he continued to compete in MMA, he would have certainly gone on to win a few more titles. He was also in talks with the UFC at one point in his career, but it was never meant to be.
CM Punk
CM Punk is one of the greatest professional wrestlers ever to have tried MMA. He made his UFC debut at UFC 203 against Mickey Gall, where he was choked out in the first round. He fought for a second time two years later against Mike Jackson at UFC 225, losing again, this time via unanimous decision.
The fight was extremely uneventful, and Dana White was visibly annoyed because of it, as he promised that neither Jackson nor Punk would fight in the UFC again.
CM Punk is still affiliated with the MMA scene, however, as a color commentator for Cage Fury Fighting Championship.
Dave Bautista
Dave Bautista, more commonly known as his wrestling moniker 'Batista', only competed in MMA once, against Vince Lucero at CES: MMA Real Pain, and won via TKO in the first round. His debut was highly-anticipated as he was one of the most popular professional wrestlers to have transitioned into MMA in 2012.
However, 'The Animal' had a hard time finishing his opponent.
Batista also looked incredibly amateurish, and the fight was anything but exciting. It's safe to assume that Batista didn't see a bright future for himself in MMA, or else he would have continued.
Alberto Del Rio
Alberto Del Rio has quite a few MMA fights under his belt. He holds a 9-6 record, with his most recent fight, also his most notable one against Tito Ortiz, ending in a first-round rear-naked choke defeat.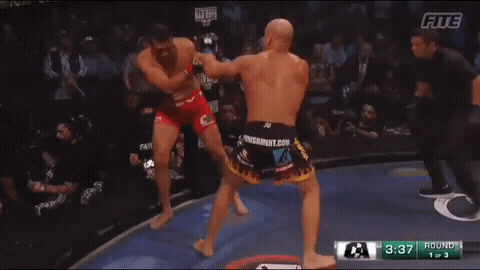 Del Rio has competed in various MMA promotions throughout his career, including PRIDE, where he lost Kazuhiro Nakamura and Mirko Cro Cop, via head kick in under a minute.
Which current WWE superstars do you think would do really well in MMA?